What is CrossFit?
What Is CrossFit?
CrossFit is a program developed to offer a full-body workout that combines elements of cardio, weight lifting, gymnastics, core training and more to prepare the body for the unexpected.
CrossFit is the principal strength and conditioning program for many police academies and tactical operations teams, military special operations units, champion martial artists, and hundreds of other elite and professional athletes worldwide.
This high-intensity workout is extremely varied and all about getting the most bang for your workout buck. A CrossFitter will likely never do the same routine twice in one week and each workout will usually last between 45 minutes to an hour.
Who Is CrossFit Good For?
Parents, college students, adults, teenages, youth, many professional and elite athletes are all participating in the CrossFit Program. Prize- fighters, cyclists, surfers, skiers, tennis players, tri-athletes and others competing at the highest levels are using the CrossFit approach to advance their core strength and conditioning, but thats not all. CrossFit has tested its methods on the sedentary, the youth, overweight, pathological, and elderly and found that these special populations met the same success as our stable of athletes. If the CrossFit program works for Olympic Skiers, the overweight, and sedentary homemakers, then it will work for you!
CrossFit is based on a team/group workout environment. Very different from the commercial gyms; there are very few open gym times and almost no traditional machines. The complete program is based around maintaining a low client to coach ratio and one of the most important characteristics is the fitness programming. Each member chooses a time that he/she can attend a scheduled class. All participants in that class warm-up together, work on skills together and perform the workout of the day. As a team, as a family, as a unit, they start and end the workout together. Pushing, encouraging, and helping each other along the way; similar to that of a professional sports team or military unit.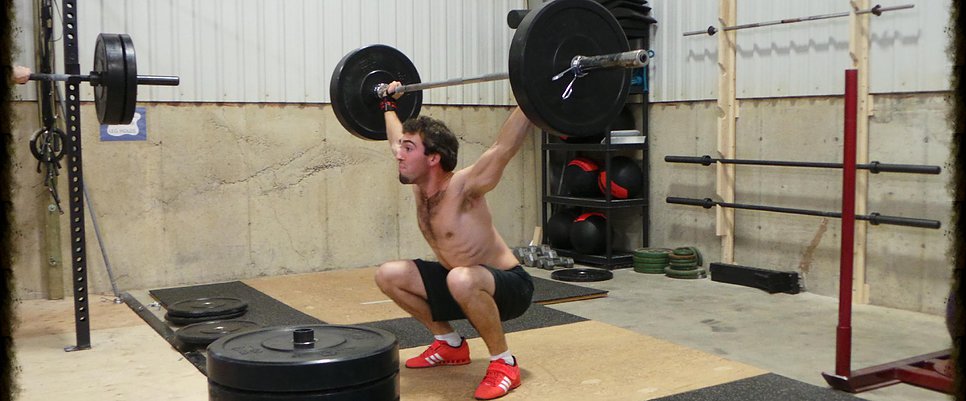 What is the CrossFit method and how is it different?
The CrossFit method is to establish a hierarchy of effort and concern that builds as follows:
Diet: lays the molecular foundations for fitness and health.
Metabolic Conditioning: builds capacity in each of three metabolic pathways, beginning with aerobic, then lactic acid, and then phosphocreatine pathways.
Gymnastics: establishes functional capacity for body control and range of motion.
Weightlifting and Throwing: develop ability to control external objects and produce power.
Sport: applies fitness in competitive atmosphere with more randomized movements and skill mastery.
Courtesy of CrossFit Inc.
Let's Get Started!